Garden Fresh Recipes: Cherry tomatoes and tarragon
Baked Chicken with cherry tomatoes and tarragon
One lovely thing about cherry tomatoes is that they are so prolific. Gardeners often have way more than they can easily use; they are so sweet and delicious. The Tumbling variety (65 days, either red or yellow) is particularly reliable and good for hanging baskets. The grape-like clusters of  Sugary (60 days) will keep producing on a vigorous vine all summer long. The yellow Sunsugar (60 days) is very sweet.
Remember, in planting tomatoes, to bury the stem as deep as possible, just leaving a couple of leaves at the top. This and some mulch will help prevent blossom end rot because it promotes the development of more roots to keep a consistent supply of water to the fruit. Use red mulch: it promotes sweetness and so does boosting your fertilizer with sea weed.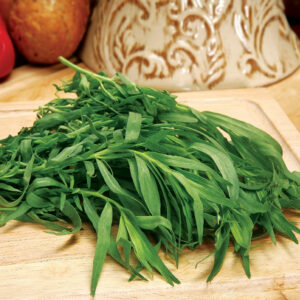 The recipe for baked chicken with cherry tomatoes and tarragon is my husband Glenn's favourite contribution to our table. It is wonderfully simple and very delicious. He doesn't brown the chicken. That's my innovation, but either way will work. He also puts all the tarragon in the pan with the tomatoes and chicken – he can't be bothered fussing. It doesn't matter and it all comes out delightfully in the end. Cooking is so much fun, especially when you've grown the produce yourself.
Tarragon is a magic herb, tasting a little like licorice or anise and bringing a hint of France , where it is called the King of Herbs, to the table. 
4 cups cherry tomatoes, cut in half
5 cloves garlic, crushed
1/8 cup Canola oil
2 Tbsp fresh tarragon, chopped
1 tsp red pepper flakes
4 boneless, skinless chicken breasts
1 tsp salt and freshly ground pepper to taste
Preheat oven to 450 degrees F. Toss halved tomatoes with garlic, oil, 1 Tbsp tarragon and red pepper flakes. Arrange tomato mixture in a single layer around raw chicken breasts on a baking sheet with a rim. Sprinkle with salt and pepper and roast for 30 to 35 minutes until chicken is no longer pink inside.
Alternatively, to get a golden coloured chicken, dredge chicken breasts in flour and sauté in half butter and half oil until just golden brown on both sides. Then bake in oven with tomato mixture for about 12 to 15 minutes.
Remove to serving platter and spoon tomato and juices over chicken. Sprinkle with remaining half of tarragon.
Cooking tips
Cook chicken at a high heat and for a short period if dry cooking. Grill chicken breasts for 8 to 10 minutes. It helps to pound chicken lightly to an even thickness for even cooking.
For poaching or moist-heat cooking, keep time to about 15 minutes. 
In either case, internal temperature should be 160 to 170 degrees F.
Virtues of cherry tomatoes
One cup of cherry tomatoes will provide 57% of your daily requirement for vitamin C; 25% for vitamin A and about 18% of vitamin K.

A very good source of molybdenum, potassium, manganese, dietary fibre, chromium, and vitamin B1. In addition, tomatoes are a good source of vitamin B6, folate, copper, niacin, vitamin B2, magnesium, iron, pantothenic acid, phosphorus, vitamin E and protein.

High in lycopene, a powerful anti-oxidant.

One cup of cherry tomatoes equals only 27 calories!
Virtues of chicken
35g of protein for a 4-oz serving or almost 68% of daily needs.

188 calories per 4-oz. Grilled chicken breast.

One skinless chicken breast has 3 grams of fat (skin on: 14 grams).

Vitamin b6 and B12.

High in Niacin.

17 mg of calcium and 290 mg of potassium in four ounces.